For Restaurants
I own a catering business and I want to join the network. Where do I apply?
---
Simply complete the Registration form here or Send your interest and we will get back to on how to get started. Please note that for the moment, only vendors that have some washing capabilities will be able to join, but do reach out to us to remain informed of the future opportunities.
---
What container size do you provide?
---
Cups hold up to 475ml of chilled drinks

Boxes have a capacity of 1200ml
They fit most orders, and our members are conscious that it's a start and that we will be offering more variety in the future.
---
Are the containers dishwasher safe?
---
Yes.
---
What materials are the containers?
---
Boxes are made from food-grade silicone with BPA-free PP lids Cups are from stainless steel. Our containers are made to FDA and/or AVA food contact standards and of high quality for a better overall takeaway experience. Who ever enjoyed eating from flimsy disposables anyways?
---
Can I place the containers in the micro-wave?
---
Boxes can be safely used in the microwave, with the lid off. Cups cannot be microwaved.
---
I need help, who do I write to?
---
You can contact partners@barepack.co for support. We will do our best to attend to you quickly!
---
Do you offer barePack for delivery?
---
Yes. We don't deliver barePack ourselves, but we work with Grab, Foodpanda and Deliveroo (and your own website if you wish) to offer your customers a zero-waste solution.
---
---
For Members
How do I use barePack?
---
You need the barePack app to start! Grab a free one month trial, and start to takeaway with us without disposables. 1) Visit a partner vendor 2) Scan their barePack vendor QR code when placing your order and select your containers 3) Show the confirmation screen to the vendor. Without this verification, vendors won't issue a barePack container! 4) Enjoy your food or drink! 5) Return to an office collection point if your company is a corporate client, or to any vendor in the network - even if you didn't pick up from there. Scan tthe QR code again when you return the containers. Alternatively, you can ask for a home collection if you reach 5 containers. For more on how to use and to see how to order delivery, visit the Customers page here.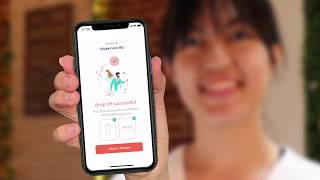 ---
How do I return barePack containers?
---
You can drop-off at any of our vendors, not necessarily the one you received a container from, and scan in using the barePack app. You can view a demo here. You can also request a home collection when you reach 5 items.
---
Can I microwave the lunch box?
---
Yes, provided you have removed the lid.
---
Can I microwave the cup?
---
No you cannot microwave the cup.
---
Can I order barePack online for delivery?
---
Yes! You place your order directly on the partner app or website such as Foodpanda, Deliveroo or Grab! For more on how to order barePack, click here.
---
How do I cancel my membership?
---
Simply fill in this form: www.bit.ly/memberrescue Why can't I unsubscribe in the app? Because we would love to hear what we didn't get right so as to improve our service :) You can request cancel anytime, and the membership will not be renewed.
---
How many containers can I borrow?
---
You can have up to 5 in your inventory, cups and boxes combined. But it's unlimited use! Just keep returning to keep borrowing.
---
Do you do home collections after use?
---
We do, but only if you reach 5 because it is not very eco-friendly to collect for so few items. While we try to have bicycles, we cannot guarantee a carbon-neutral trip! It's also quite expensive and not really worth your money for one box 😉
---
I paid a deposit to borrow barePack on Deliveroo. How do I recover it?
---
You must first download the barePack app. 1. Create an account but do not choose a membership. Tap on barePack Deposit to start the refund process.
2. Input the information relevant to the order of the deposit you made. You will need your order receipt clearly showing the containers paid for.
3. When convenient to you, you will need to return the containers borrowed to one of our partners (any in the network). To do so, check your history page from the side menu and click the scanner button when you bring your containers to a restaurant to return. Ask the restaurant to show you the barePack QR code and scan it to return the containers.
4. Once returned, the barePack Member Rescue team will review the receipt you submitted and information to process a refund. You will be contacted to provide details for your refund. You will have the option to use the deposit to pay for a membership so as to never have to pay deposit again or to be refunded in full. Refunds are from barePack and not Deliveroo.
---
---
Get involved
1. I want to suggest some vendors, how do I do that?
---
Send your suggestions via this form here.
---
2. How can I help to get more vendors?
---
Aw, firstly, thank you for suport, it means a lot to us! 🤗 Vendors all listen to their customers first so use your voice! You can: 👉 Tag them in our social media posts on reducing disposables. 📷 Share a story on social media
📨 Send them an Instagram DM or Facebook Messenger. Be friendly, polite and positive. Tell them how amazing barePack is and how "sustainable" disposables don't exist! Email them, if you really want to get their attention. 💬 Comment and tag us in their Instagram and Facebook posts! Public comments are more likely to get a reply and you might also gain a few new barePack members in the process. We sure appreciate the word of mouth. Need inspiration on what to write? Hey! I love your menu, but I wish you had fewer disposables for take-away. Could you join the @barePack.co service so that together we can reduce single-use? Thanks! You're my FAVOURITE [insert type of food or restaurant] in Singapore BUT I really wish you could do more than just accept BYO/provide supposedly eco-friendly disposables. Disposables all end up being sent to the incinerators anyways - why spend ressources making them? I would love to see you join @barePack.co instead! More suggestions to give us? Send there here ! ​
---
3. I want to volunteer!
---
Great! Join our Facebook community here to stay up todate, receive the latest restaurant partner updates and come together to find creative ways to solve single-use waste! You can also send spontaneous applications to intern with us to hello@barePack.co
---
---